NEW YORK (Fortune) -- MARKETS: There you have it, in a nutshell, the whole trading year - all wrapped up in the first session of the year. Stocks started Tuesday strong, but ended up just a smidge: Dow up 11(actually the S&Ps fell a point plus) on concerns about the soft housing sector. Interestingly I was talking to one of the most famous hedge fund managers in the world (think Soros or Robertson, but not one of those two and I can't name him right yet), and he was saying that while the trend for U.S. stocks in his mind is up for 2007, he has this nagging underpinning of worry. He isn't sure what the bugbear is and that makes him uneasy. So it could be housing, but I say it's NEVER the 18-wheeler you see coming two miles away that kills you. It's something that sneaks up on you: from nat gas prices to Long Term Capital to (heaven help us), 9/11. On the other hand, it's a healthy rally that climbs a wall of worry. I'm concerned though, as is Lloyd Blankfein (CEO Of Goldman Sachs (Charts)), that there just aren't any risk premiums out there in the world. Too many, too clever hedge funds playing around in every security under the sun. In other words, it's too quiet. So get rich, but don't get greedy.
NARDELLI RESIGNS: The psychology here is interesting. I always wonder if Bob never got over being beaten out by Jeff Immelt for the top job at G.E. (Charts) After that he just seems to have gone hog wild on the pay thing. It will be interesting to see what the back story/real story is here. I saw Nardelli recently, on November 29th here in NYC, at FORTUNE's Innovation Forum - where presumably he was learning to innovate more, maybe even about to innovate more about compensation! Geoff Colvin, along with some help from Pattie Sellers, has a a real nice take on the Nardelli imbroglio here.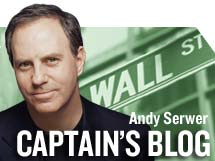 OPEN LETTER TO BONO: I know you are a great diplomat and have done incredible work in Africa and for underdeveloped countries, etc, but I have a challenge for you. Why not throw a giant, worldwide concert to promote religious tolerance? Headliners would be U2, Yusuf Islam (Cat Stevens), Matisyahu (Mathew Paul Miller), the Hasidic reggae singer (l dig him!), Creed, and other bands with a wide range of spiritual influences. Rock against religious intolerance. Bring Christians, Muslims, Jews, et al together! Just a thought.
LOOSE CHANGE: You know why I like love my job? Because FORTUNE is the business magazine you want to read!.......Finished reading Nat Philbrik's Mayflower. (Nat is a champion sailor and Brown '78, btw.) Quite good. What blows me away was his long, heart-stopping pages on King Phillip's War. Holy smoke. I've never seriously boned up on that conflict before. Really wrenching stuff. Make for an incredible movie!....Have you noticed? It really is true that brown is the new black....Those "Desert's a Bitch" lyrics come from "The Same Band." An obscure New England outfit, circa 1980. Anyone get that?.....Come on. Admit it. You're rooting for Jeff Garcia (Geeze, John Madden is!)....Congrats to BAMA on Saban. National Champs in '09!.....Who do you like, Florida or the Bucks?