NEW YORK (Fortune) -- Japanese restaurant chain Benihana, known for its knife-and-pepper-grinder-juggling chefs, is remodeling and expanding, feeding sales and earnings growth for 2007.
Benihana, founded in 1964 by Rocky Aoki, brought Japanese "teppanyaki" or hibachi cooking to the United States. Aoki's concept - highly trained chefs chopping and cooking tableside - was not only entertaining and tasty, but also an operational triumph.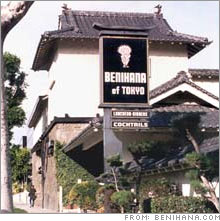 The layout of a Benihana restaurant included a small kitchen, maximizing dining - and therefore revenue-generating space. Aoki also kept the menu simple and streamlined - chicken, beef and shrimp - which cut down on prep and waste. The concept heated up, ultimately growing to 59 locations.
The stock has also been hot, returning 90 percent over the past two years. But despite the rise, the investment story is still a little under the radar, followed by only a handful of sell-side analysts. While the stock currently hovers around $32, Jennifer Milan, an analyst with Ryan Beck, has a price target of $35.
Benihana (Charts) is more often thought of as a fun place to hold a kids' party than an investment. "It would be easy to write them off," says Ryan Crane, chief investment officer at Houston-based Stephens Investment Management "and think that nothing new is happening."
But actually quite a few things are happening. The core brand restaurants are undergoing a series of renovations, started in 2006. Five remodelings have been completed and four restaurants, currently closed, are scheduled to re-open next quarter.
Although temporary closures hurt sales and earnings in the short term, the long term results can be worth the wait. Remodeled restaurants have experienced, on average, a 15 percent increase in sales, giving a boost to revenue and adding to already-impressive same store sales growth, which topped 9 percent in the most recent quarter.
Benihana has also added to its family of Japanese eating destinations with seven sushi restaurants under the brand Haru and 13 RA Sushi locations. While Haru is upscale and niche, RA has the potential to be a 100-plus location concept, according to Benihana management.
Milan calls RA Benihana's "true growth vehicle." In the quarter that ended in October, RA accounted for 14 percent of total revenues, up from 10 percent in the same period last year.
Milan estimates that the return on investment for RA Sushi locations is 33.7 percent compared to 25 percent for the Benihana teppanyaki spots. Same-store sales growth for the quarter ending in December 2006, grew 12 percent compared to the previous year.
"There aren't a lot of restaurant companies that are growing that quickly," Crane says of the RA Sushi concept. Crane considers Hawaiian-influenced chain Kona Grill (Charts) a good comparison to the RA restaurants. Kona, however, is only expected to squeak out a small profit by year end, pushing its PE out of range, while investors can buy into RA and newly-invigorated Benihana shops for only 19.5 times fiscal 2008 earnings (ending in March 2008). P.F. Chang's (Charts) and Cheesecake Factory (Charts) trade at 28 and 22 times respectively, over similar periods.
Macro trends also look good. Milan points to an increase in the Asian population in the U.S., growth of healthy eating habits, continued popularity of sushi, revival of business travel and tourism and more away-from-home spending on food, as support for Benihana's growth.
Benihana's fun factor is also a plus. "Benihana benefits not only from its niche positioning in the market," Milan wrote recently, "but also from such differentiating factors as its entertainment component and high-energy atmosphere."
Risks to the business, not surprisingly, include rising commodity and labor costs. Another challenge is liquidity. As a somewhat thinly-traded stock, big investors can sometimes get stuck, but Crane also sees this a possible advantage. "When new buyers come to the table with not a lot of liquidity," he explains," it can have a pretty meaningful impact on the stock."
With analysts estimating more than 30 percent earnings growth next year, driven by new and improved Benihana locations, health trends (eat your fish!) and expansion of the RA Sushi brand, Benihana looks ready to serve up a satisfying return for investors.
Cut health-care waste, boost your portfolio
Investors flip over IHOP