NEW YORK (Fortune) -- WHAT'S NEW: Working on a way-hot new issue of Fortune magazine for y'all! Some seriously-cool immediate-future stuff that you need to know now! A red (wine) hot biotech company too. But you have to wait until next week. So as Beck would say: Please Enjoy! (Hell Yes!)...
Did you see Apple's (Charts) profit came in way above expectations? A little give back - sell on the news - after the bell. All I can say is the Steve Jobs story gets more and more and more interesting all the time. There really is no one like him, in any field of endeavor...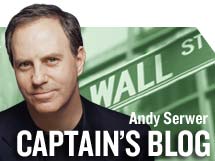 JG points out that MasterCard (Charts) stock hit $109 plus today, a new high. It went out at $39 when it IPOed last May - a great business these days. Sort of counterintuitive...
Was meeting with one of Wall Street's biggest playas today who said: "Activist investors are like dogs chasing the bus. It's a lot of fun to chase the bus, but when they catch the bus, it's not so much fun anymore." I love it!
CHEERIO, OLD CEO! General Mills' (Charts) CEO Steve Sanger came by the office. Here's a report from Matt Boyle: "Sanger's a GM lifer...been there since 1974 and headed both Big G (cereal biz) and Yoplait before becoming CEO in 1995. He's a friendly Midwestern type, who doesn't talk about himself much. An anti-celeb CEO. He has salt and pepper hair and pushbroom mustache.
"It's worth noting that Sanger has been CEO of GIS since [circa] 1995, which says a lot in this era of short CEO tenure. Stock was up about 20 percent last year, so he's clearly doing something right. One impressive piece of this company is its Yoplait yogurt biz. It's over $1 billion in sales now - making it a so-called 'megabrand' - and was up 14 percent in sales last fiscal year. Double-digit growth in the food biz is pretty rare these days, as you know.
"With Big G cereal (Wheaties, Cheerios) showing lackluster growth in a very mature market, the action is in good-for-you yogurt these days. Americans eat very little yogurt per capita compared to countries like France, so there's a big opportunity here. Dannon (part of French food giant Groupe Danone (Charts)) is also gunning for this market, so there's a battle shaping up here." Kind of like a culture war, right Matty?
SEEING PEPSICO: Had a nice chat with Tod MacKenzie of that little food and bev company up in Purchase, N.Y. Pretty amazing job they've done over the years, no? Interesting side note to our conversation, Tod handed me his business card which was ordinary enough until I noticed it was covered with perforated dots. What gives? Ah, it was in Braille! Tod told me that was a new initiative at the company to make sure to include folks who were visually impaired. (Our own Roger Parloff did a nice piece on the visually impaired and business.)
Tod said Pepsi (Charts) had already reached out to people of all races, religions and creeds, as well as the gay community (see story by Marc Gunther), and that this was another natural step. Interesting. Oh, and PS: The company's global snack business is going gangbusters!
LOOSE CHANGE: Deep Blue found this story that was based on a Geoff Colvin story. I quote Deep: "G. Colvin is greeeeeaaat ! I do remember that piece AND it was quite good." http://registeredrep.com/mag/finance_year_personal_greatness/...
So I finished "The Looming Tower." Whew! When are you going to read it?... Just started "Fortune's Formula." Two people who I understand are fans of this book: John Griffin (Blue Ridge), and Charlie Munger (you know)...
Pray for Eddie Griffin...and finally the Philly report for T-bone: "I'm still in mourning over A.I. and my Eagles. Praying the 76ers tank it - and that either Durant or Oden come to Philly." Prayers 24/7 today!