NEW YORK (Fortune) -- YOUR NEW ISSUE OF FORTUNE MAGAZINE: Okay, I'll admit it. It's amazing! Brilliant! Perfect even! Cover story on the how drinking red wine will let you live forever (or close), and the amazing biotech company that's racing to create miracle drugs that extend life from an ingredient in, well, Pinot! Um, that's good...We also have a great lineup of big thinkers and CEOs to tell you all about what's going to go down in 2007. Serious heavy hitters who are a bit undercover like Vinod Khosla, Peter Chernin, Linda Kaplan Thaler, David Rubenstein, Sean McManus. (Funny, as a business magazine, we didn't feel compelled to call up Louise MacBain.) Other terrifc reads: Newt Gingrich's comeback trail bid for the White House by Nina Easton, a coolio story on Second Life by David Kirpatrick, and even an interview with one of Disney's (Charts) hottest properties: Hannah Montana. ("You get the best of both worlds. Chill out take it slow. Then you go rock the show!") Just don't tell my achy-breaky heart---how many of you get THAT?
SAN FRANCISCO: Just got back. The city seems...well, perfect! Bustling. Thriving, but not over the top like back in the day. As in back then someone would literally be offering you a job every five minutes. Now that was wack! Visting with some ad agencies----who by the way tell me there are jobs for the begging out there in that business. (Hmm, okay maybe things are getting a little hot again...) Also had some terrific conversations with John Hammergren CEO of McKesson (Charts) (now that's a BIG company), as well as folks at Franklin Templeton, Symantec (Charts), and Netsuite. Tina from Suze! Never mind those twin giants, Dragon Media Online and Digital Axle...and by the way, Hawthorne Park has been renamed. It's now called TWO...(Did you know that Sulu from Star Trek was born in SF?) Thanks to Lisa, Rick, Ann, Mary, Lucy, Kyle, Monica, Pam and Chris etc, sorry if I'm leaving anyone out!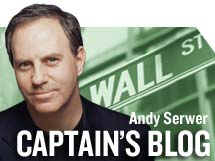 QWERTY: I just got a really cool pen as a gift. It's called a QWERTY pen from a company called Tokens and Coins. Here's the deal: "[the pen] is the order of the first 6 keys on a keyboard, became the standard layout for typewriters in the early 1920's. The Qwerty Typewriter Key Pen allows for on-the-spot personalization with any of the letters from an authentic vintage Remington, Smith Corona, Underwood or Royal typewriter." I got an "A" of course. (Just like school. Not!) Thanks Duke and Kate!
WE BUILT THIS CITI: Much sturm und drang! A name change. Personnel changes and Maria Bartiromo too! Question: Wonder what the board thinks of the Prince now?
LOOSE CHANGE: Hypothetical question of the week: Someone tells you off the record they violated a securities law. What do you do?....Did you know Alexander Hamilton (no relation to George) was born in Nevis? Explains much, no?....Have you seen the Kenneth Cole New York Men's Hedge Fund shoe? I think Deep Blue has a pair...Hey Deep Blue is a heavy guy. See what he's reading: The Singularity Is Near: When Humans Transcend Biology by Ray Kurzweil. Hey, Ray's the last of the big heavies!!!!.....So will Iverson and Melo be a smash hit? I think it¹s all about Steve Blake...Okay, it's official: The iPhone is da Bomb!