(Fortune Magazine) -- This season's most popular new television character is a geeky Japanese office worker who devours comic books and has an encyclopedic knowledge of "Star Trek." But Hiro Nakamura is no ordinary Trekkie. He possesses a superpower himself - the uncanny ability, as he puts it in fractured English, to "bend-a space and-a time."
You will find Hiro testing the limits of his power on "Heroes," NBC's new Monday-night drama, along with a gaggle of other fledging superheroes. There is a congressional candidate who can fly - and would just as soon keep his gift under wraps. There is a high school cheerleader, Claire Bennet, who can heal herself after bone-crushing injuries. There is a Los Angeles cop who can hear other people's thoughts and promptly discovers his wife has cheated on him. There is an artist who can paint the future, but only if he has heroin flowing through his veins.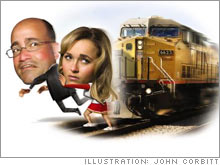 It makes for more memorable television viewing than you might expect.
"Heroes", according to Nielsen Media Research, is the season's hottest new series with viewers between the ages of 18 and 49, the demographic most coveted by advertisers. The serialized drama owes as much to ABC's riveting "Lost" as it does to Marvel Comics. Its superheroes are on the verge of saving New York City from a pending (and mysterious) catastrophe.
The success of "Heroes" raises an intriguing question: Can Hiro et al. rescue NBC from last place in prime time? Since losing "Friends" in 2004, NBC has been like Peter Parker before his encounter with the radioactive spider. The Peacock Network has had to bear the bullying of its rivals.
But last fall NBC added "Heroes" to its lineup, along with "Sunday Night Football." Suddenly it wasn't so powerless anymore. It ended the season tied with CBS (Charts) for second place with 18- to 49-year-old viewers in the November sweeps.
Kevin Reilly, president of NBC Entertainment, says his network is now "one show away" from a prime-time turnaround. In 1995 two shows lifted NBC to first place: "Friends" and "ER." After several years of languishing in last place, ABC came within a hair's breadth of winning last year's season on the strength of "Desperate Housewives," "Lost" and "Grey's Anatomy."
Reilly isn't ruling out the possibility of another of NBC's new shows - "30 Rock," Tina Fey's satirical behind-the-scenes take on a network television variety show, or "Friday Night Lights," a critically lauded drama about high school football - catching fire with the viewers.
The network has already surmounted one of the obstacles in its path. When "Heroes" went on hiatus in December for seven weeks, there was a lot of talk about what would happen when it returned to the air in late January. "Heroes" didn't have much competition when it debuted in the fall at 9 P.M. on Monday.
Now Hiro and his superfriends would go up against Jack Bauer and the Counter Terrorist Unit on Fox's "24," which in recent years has steadily gained viewers. "Any program that goes up against 24 will struggle," John Rash, director of media negotiations for Campbell Mithun, an advertising firm, told me in December. But "Heroes" vanquished "24" when the shows went head-to-head on Jan. 22.
Corporate red tape
The bigger problem for the network may be corporate meddling. A month before NBC's surprising sweeps showing, NBC Universal, the network's parent, unveiled a cost-cutting plan entitled NBCU 2.0. Seven hundred employees got pink slips, part of an effort to "redirect traditional analog resources toward high-growth digital areas," according to the press release.
Then Reilly's boss, Jeff Zucker, CEO of the NBC Universal Television Group, announced that the network would program reality shows exclusively from 8 to 9 P.M. Advertisers, he said, were no longer interested in scripted fare at that hour. (Never mind that ABC and CBS successfully introduced new scripted shows - "Ugly Betty" and "Jericho," respectively - in that exact time slot this season.)
Zucker's edict was widely ridiculed, and the network now concedes he stuck his foot in his mouth. The comment is the sort of thing that you would expect to hear from Jack Donaghy, the fictitious vice president of East Coast television and microwave oven programming played with gleeful maliciousness by Alec Baldwin on "30 Rock."
If NBC actually devotes a third of prime time to game shows and reality programming, its ratings are likely to be volatile. Those shows do attract sizable audiences, but (except for Fox's "American Idol") they often burn out quickly. Look at the plummeting numbers for NBC's "The Apprentice," a top-ten show only three seasons ago.
Here's the bigger flaw with NBC's plan: It means fewer "Heroes." A scripted hit like "Heroes" - which NBC produces and owns - is more valuable to the network than a reality show. Scripted shows have more loyal fan bases. They also leave reality shows in the dust when they are released on DVD or sold on platforms like iTunes, one of the emerging digital media services to which NBC Universal says it is shifting its focus.
Of course, if you want a hit, you have to take chances. That's something network executives don't always like to do. "Heroes" creator Tim Kring says he probably wouldn't have been able to get his show on NBC if he didn't already have "Crossing Jordan," a modestly successful crime drama, on the network: "I was in a position to say, 'This is what I want to do. I'm not really that interested or bothered whether you want to do it or not.'"
You can understand why NBC might not have rushed to put the show on the air. Superheroes are tricky. Geeks adore them, but shows where the main characters dash around in tights with their underwear on the outside haven't been all that successful. That's why Kring shrewdly decided to skip the typical superhero garb. "I wanted the audience to look at these people and say, 'That could be me or someone I know,'" he says.
The show's creator says he learned from the mistakes of other serialized dramas. Even the makers of "Lost" have sometimes forgotten to advance the plot, leaving viewers to sit through episodes where nothing much happens.
Fans of "Heroes" don't have to worry about that. If anything, Kring moves the show's multiple story lines along too quickly. That's probably for the best. Not all its characters are as engaging as Hiro, played with such verve by Masi Oka.
The result is distinctive. Vince Manze, NBC's promotions guru, says the show has been a breeze to advertise. He used one of Hiro's most memorable lines: "Save the cheerleader; save the world" in promotional spots for a Nov. 20 episode in which Claire Bennet, the superpowered cheerleader, must elude a serial killer intent on removing her brain. It attracted 16 million viewers.
Says Manze: "This is what happens when a great show meets great marketing. Certainly we have had various occasions when one of those parts has been missing."
True enough. If Reilly wants to return NBC to first place and keep it there, he needs more shows like "Heroes," not like "Grease: You're the One That I Want," the network's recently introduced reality show, which lost nearly 30 percent of its total viewers in its second week.
Reilly now says the reality show edict was just a "target," not a "hard-and-fast rule." Oh, really? Maybe Hiro Nakamura will rescue NBC after all.
_________________
A 'Hero's' predictions for 2007