(Business 2.0 Magazine) -- Bill and Melinda Gates's "smart home" in Medina, Wash., cost an estimated $113 million to build - but that's pennies compared with what consumers are starting to spend every year on making their homes smarter.
Thanks to a host of new, lower-cost home automation technologies, cable operators and telecoms are targeting the average homeowner with cheap bundled subscription services, often controlled from their cell phones.

CNN's Renay San Miguel reports on the latest next generation products for the home available right now.
Play video

---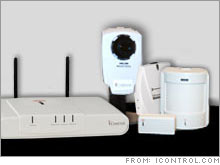 In October, AT&T (Charts) launched a remote home-monitoring service to let users control home lighting and appliances via live video, viewable on Cingular Wireless phones or their PCs, for $10 a month. A slew of startups are looking to other service providers to bundle their solutions.
Analysts have high hopes for the burgeoning smart home market: Now an estimated $1.3 billion, it's expected to balloon to nearly $10 billion worldwide by 2010, according to research firm Frost & Sullivan.
"Home automation is no longer just for the technophile hobbyist or for an episode of MTV Cribs," says Sam Lucero, a senior analyst with ABI Research. "It's right on the cusp of becoming mainstream."
Of course, some of this stuff has been around since the 1970s in the form of X10, the industry standard for TV remote controls. But new wireless standards (like Insteon, ZigBee, and Z-Wave) and cheaper chipsets have enabled two-way, low-cost communication between devices.
Some firms like Control4, Cortexa Technology, and Exceptional Innovation are targeting real estate developers. The aim is to make an automation system - set-top box, central touchscreen, wireless cameras, and sensors - standard in new homes.
"Within four to seven years, this will be the norm," says Tyson Paul, VP for technology at Nobu, a Costa Mesa, Calif., company that sells a touchscreen home controller. "It will be like the flat-screen TV nowadays - if someone doesn't have one, they're kind of living in the Stone Age."
Sci-Fi gets real
For others, however, partnering with communications companies is where the action is.
New York City-based Xanboo, whose technology powers AT&T's new service, also got $20 million in funding from strategic investors including Motorola (Charts). In 2005, Motorola partnered with Xanboo on a product called Homesite, which cost $220 and let users monitor their homes on cell phones.
Now, with AT&T's service, users buy Xanboo's starter kit - including IP camera and wireless door or window sensor - for $200. Xanboo president Bill Diamond says the company is in talks with about 20 other mobile operators in Europe and North America. "We think the cell phone is going to be a major driver of this," he says. "Controlling things through your PC is still kind of geeky, but being able to do it with a phone makes it much more mainstream and attractive to on-the-go lifestyles."
Palo Alto-based iControl Networks raised $5 million from Intel Capital and VC firm Charles River Ventures last April and launched its first product - a $400 starter kit and a $15 monthly service that provides PC and cell-phone access to a home-monitoring system - in May.
CEO Reza Raji says the company is in talks with major cable companies and mobile operators looking for bundling options. "This is going to be a service provider play," says Raji, who checks on his own home by logging on to his company's website several times a day.
Before the average homeowner opts for such a service, however, he'll need a little convincing.
"It all still seems kind of Star Trek to most people," Lucero says. "But is home automation going to grow and become more mainstream? Yes on both counts."

To send a letter to the editor about this story,
click here
.