(Business 2.0 Magazine) -- David Allen sits in his small office in a cottage behind his house in Ojai, Calif., talking business with a visitor. Suddenly he stops. "That reminds me," he says. He scribbles the words "bird feed" on a piece of blank notebook paper and tosses it into his inbox.
It's an ordinary moment in an ordinary day. But for Allen and his legion of followers, it holds the key to salvation. He has emptied his mind of a nagging task, placed it into a trusted system for processing, and casually returned to his conversation. That's GTD, short for "Getting Things Done," the prosaic title of his best-selling book.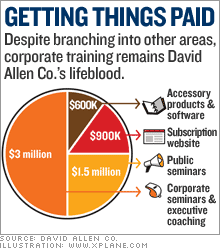 But GTD is not really a book. Nor is it a subscription website ($48 per month), a one-day public seminar ($595), a corporate training session ($20,000 per day), a growing accessory line of wallets ($99) and plastic folders ($19), an add-on for Microsoft Outlook ($70), or any of the dozens of unauthorized websites where geeks and high-tech execs gather to proclaim Allen the new messiah and debate the finer points of his teachings.
All these are merely the bottles carrying his mysterious elixir. What he is really selling is a thought process designed to help people keep track of the endless tasks of modern life -- whether buying birdseed or closing a billion-dollar merger. People who commit to his step-by-step program, Allen claims, will not only gain control of their frenetic lives but waltz through their days stress-free.
It's an audacious promise that not even Stephen Covey, who has sold 15 million copies of The 7 Habits of Highly Effective People, ever dared to make. But while Covey's book is thick with high-blown principles and paradigms, Allen has found God in the details, creating a systematic manual covering everything from how to organize your file cabinet (no hanging folders) to how often you should review the list of everything you want to accomplish in life (weekly). Never mind the theory -- here's what you do.
The effect of Allen's teachings on harried office workers can seem miraculous. "I get 2,000 e-mails a day, but now my inbox is empty," says Mark Ferlatte, a senior systems engineer at Linden Labs, creator of Second Life, where Allen recently ran a seminar to help overburdened employees deal with the company's staggering growth. Before discovering GTD, Ferlatte says, "I was feeling total doom."
The David Allen Co., which started in 1996 as a two-person operation -- just Allen and his wife, Kathryn -- now has 32 employees, 25 hired in the past three years. Sales have tripled during the past four years to a projected $6 million in 2007. Allen's one-day public seminars regularly sell out, and he's branching out into podcasts, CD and DVD sets, e-mail newsletters, and even baseball hats imprinted with GTD's Zenlike credo: "Mind like water."
But Allen's success has put him in an awkward position. His skills, he admits, are as a speaker, writer, teacher, coach, and salesman -- not as the CEO of a company that his advisers say could be doing $60 million or more in business. He has yet to find anyone he trusts to take over. "To some degree," he says, "I'm like a daddy with his baby and I'm not going to let go."
This is precisely the moment, of course, when many mom-and-pop businesses self-destruct, as the brash entrepreneur drowns in his own good fortune. Nobody knows that better than Allen, who has advised many clients in exactly that position. Can the coach suddenly jump off the bench and compete in the big leagues? Can Allen make GTD work for him?
Judging by outward appearances, it would seem he already has. "I'm buried with work," he says, but on this typically busy weekday morning, Allen, at age 61, looks more like a man on vacation.
Then again, he has long experience with altered states of consciousness. He's been a drug-taking grad-school dropout, a Zen-inspired karate black belt, and a trainer for personal-growth seminars, all before finding his calling at age 36 as a training consultant for corporations such as Lockheed (Charts, Fortune 500), McDonnell Douglas, and General Mills (Charts, Fortune 500).
Allen deeply wants his company to succeed, but he's not in this business just to make money. What he really wants, more than anything else, is to spread the gospel he has discovered -- the gospel of GTD.
If you had told me in 1968 that I'd end up being a personal productivity consultant," Allen says over dinner in Ojai, a small town near Santa Barbara, "I would have told you you're out of your mind."
Allen was a 23-year-old grad student at UC Berkeley in 1968 when he met a psychic named Michael who said he owed Allen a karmic debt over a past-life transgression. Michael began teaching him karate and sharing Zen concepts such as "mind like water. " (It means that just as a pebble tossed into a still pond creates only gentle ripples, small events need not create big waves in our lives.)
Michael's teachings convinced Allen that the life he was living was phony. He quit everything -- school, drugs, his first marriage, his home -- and took a job driving a cab. "I was just one wired, raw thing," Allen says.
Thus began a spiritual quest that eventually led him in 1971 to John-Roger, an L.A.-based mystic who later formed a church called the Movement of Spiritual Inner Awareness that has courted controversy and attracted such high-profile adherents as Arianna Huffington.
"I knew in the first 30 seconds that he didn't give a rat's ass if anybody believed him," Allen says. "He knew what he was talking about."
Allen was inspired. He quit his job and moved to Los Angeles. For the next six years, he worked a series of odd jobs -- landscaper, vitamin distributor, glass-blowing lathe operator, travel agent, gas station manager, U-Haul dealer, moped salesman, restaurant cook -- until John-Roger started a personal-growth training program in 1978 called Insight Seminars.
Insight was based on a popular self-help seminar for young professionals called Lifespring, which employed potent psychological techniques to break down participants' entrenched thought patterns and replace them with ostensibly more positive states of mind. Although many graduates swore that Lifespring changed their lives for the better, the for-profit company was also slapped with dozens of lawsuits claiming psychological trauma and even wrongful death by suicide.
One of its trainers, Russell Bishop, upset by the harshness of the Lifespring program, approached John-Roger about creating a more benign version of the weeklong seminar.
"Insight started with the heart," Allen says. "We said, look, what people are really after is to love and be loved, and we just do it in weird and awkward ways. So let's try to find out how we're screwing that up and what you need to do to fix that."
Within a few years, Allen was ready to become an Insight trainer. He turned out to be a natural -- a gifted speaker with charisma, humor, and a quick wit. Among his students were many high-powered executives who wanted to use Insight to transform their companies. Around that time, Allen got an idea: Why not become a management guru?
He wasn't the only one thinking this way. Lifespring and Werner Erhard's Est were already tweaking their seminars for corporate clients. During a weeklong session that Insight conducted for Scott Paper, one exec excoriated himself for talking too much; another admitted he couldn't control his temper. Bishop recalls that when then-CEO Phillip Lippincott stopped by, a senior VP broke down and apologized for fighting his boss at every turn.
The two men committed to repairing the relationship. "I have no idea what took place here," Lippincott told the group, "but this process clearly needs to be nurtured."
Such cathartic moments happened frequently during Insight training sessions, according to Allen. But he realized it wasn't enough just to send people out into the world pumped up to change their lives. Somebody needed to show them exactly what to do when they got back to the office.
"My name is David Allen, and welcome to GTD RoadMap." On a morning in early May, the slight, silver-haired Allen stands in front of 160 men and women at Denver's Cherry Creek Marriott. Many are midlevel executives, and more than a few are system administrators and programmers at local tech firms. At $595 a head, Allen will take in about $93,000 for today's event; he should gross $1.7 million from the 18 public seminars he's scheduled to lead this year.
Dressed in a conventional business suit, Allen remains the best advertisement for GTD: laid-back, focused, funny, and every bit the self-assured leader his disciples aspire to be. Occasionally he'll throw a few karate punches, make a weird face, or prance through the aisles to make a point.
One paying customer is John Kane, 46, director of IT global systems development at Level 3 Communications, who has read Allen's book three times and listened to an audio version five times. But even Kane says he's so swamped at the office that he finds it hard to implement many of Allen's suggestions.
While Allen can offer up hundreds of unqualified success stories, he acknowledges that experiences like Kane's are also common. There are many levels to GTD, and disciples often feel that they're falling short of their true potential. Many keep coming back for more.
The Denver seminar, remarkably enough, is almost exactly the same as the first big corporate training session Allen ran nearly a quarter-century earlier. That breakthrough gig came about when an executive at Lockheed caught a glimpse of Allen leading an Insight seminar at a hotel and asked him to do an in-house version for his company. Allen figured that a lot of hugging and crying wouldn't go over well at a corporate gathering. So he developed a less personal seminar using a grab bag of ideas and techniques he'd picked up over the years.
From Michael the karate teacher, Allen learned the power of an empty mind when confronting new challenges. By running a travel agency, he picked up the idea for a "tickler file," a series of folders labeled by day, week, and month that helps people prioritize tasks. Many of GTD's most important concepts came from a small-business consultant named Dean Acheson, who taught Allen to create a master list of everything that commands his attention and assign a "next action step" for each.
Yet Allen's book is notable for being nearly devoid of research citations, footnotes, and other source material. Most of its assertions begin with the phrase "In my experience ..." There is no research, for example, to back up one of the book's central claims -- that commitments made and abandoned are robbing our lives of energy and attention and that only when we close these "open loops" can we achieve a state of relaxed focus.
Fortunately for Allen, he didn't need empirical evidence: People felt better after taking his seminars. The Lockheed event was such a huge success that Michael Winston, the executive who brought Allen in, has asked him to lead seminars at nearly every company he has worked for since, including McDonnell Douglas, Motorola (Charts, Fortune 500), and Countrywide Financial (Charts, Fortune 500).
"I've probably used David 50 times," says Winston, now chief leadership officer for Countrywide. "I remember clearly thinking of David Allen as kind of a Pied Piper with content."
Meanwhile, Insight co-founder Russell Bishop began to form a division called Insight Consulting Group and then started a for-profit company called Productivity Development Group with Allen and Sally McGee, who later became Bishop's wife. During the next 12 years, the three refined the techniques Allen had developed, which they called managing accelerated productivity, or MAP, and branched out from the aerospace industry to pharmaceutical companies and Boston-area medical facilities.
Guiding others to success, however, hardly made Allen himself immune to failure. He got burned during the 1990s after moving to Ojai with Kathryn, an Insight staffer he married in 1991 after his third divorce. Allen and PDG teamed up with a Boston entrepreneur named Tom Hagen, raised $12 million, and in 1994 launched a startup called Actioneer to create a software version of GTD.
But by the time it hit the market in 1997, the PalmPilot, Microsoft Outlook, and Lotus Notes were packed with similar tools for checking off tasks and organizing your life. Venture capitalists passed on Actioneer, and the company soon ran out of money.
At the time, Allen's consulting firm wasn't getting much done either. He was so distracted by Actioneer and managing the new business that he had to cut back on corporate training sessions, the company's lifeblood. Sales were slumping, and Allen's partners became concerned that the company's growth would be constrained as long as he was the star attraction.
Allen realized it was time to strike out on his own. The three partners arranged an amicable split, and in late 1996, Allen and Kathryn founded their company in the cottage behind their house, where he hunkered down to write his book.
He was up against some pretty tough competition. Covey's 7 Habits had by then become the bible of personal productivity and would later spawn a nearly $300 million business. But Allen thought Covey had made a mistake by starting with a personal or corporate mission before figuring out what steps to take.
Allen's method is to start from the ground up, because only after cleaning up those messes on your desk, he argues, can your mind be free enough to focus on the big picture. "The seven habits are good," Allen says. "But lots of people put that book down and say, 'So what?' It doesn't tackle the big question of what to do about those 3,000 e-mails in your inbox."
Putting his MAP corporate seminar into book form was "a long, dark night of the soul," Allen says. He wasn't a writer, and he was trying to adapt a live performance to the printed page. When the first draft was done, he threw it away and started over.
Even the title was a challenge: What do you call this thing he was teaching? MAP was boring. Zen and the Art of In-Basket Maintenance wasn't exactly inspiring. But finally, the words began to flow. Four years and countless revisions later, Getting Things Done came out in 2001 to rave reviews. It went on to sell more than half a million copies and has been translated into 23 languages.
The David Allen Co. was off and running. More important, Allen had become a GTD case study. In four years he'd found time to write a best-seller, ramped up his training sessions from 50 to 110 days a year, and tripled his company's revenue. "Once I wrote the book, I said, 'OK, that's 25 years of work, and I've proven it works,'" he says. "Nobody's going to write another one of those. I nailed it."
Now comes the hard part, as Allen tries to bring his company to the next level. Fortunately, the best demonstration of GTD anywhere can be found at Allen's headquarters in Ojai, where about two dozen employees labor quietly at their desks.
Visitors are always surprised that the place looks more like a funky design studio than the sterile office staffed by automatons they imagined. Employees are unfailingly pleasant and relaxed, and if they say they will e-mail or call you, it happens, without fail, on time. They start work at 8 in the morning, and by 4 or so, everybody has gone home.
But Allen's attempts to realize the company's potential -- to make an exponential leap in revenue to $100 million over the next decade -- may be his biggest challenge yet. And he hasn't made things easier by heading off in so many directions at once.
About half the company's $6 million in revenue comes from one-on-one executive coaching and in-house seminars handled by Allen and eight other coaches. The rest comes from Allen's public seminars, a subscription website called GTD Connect, and a growing line of products from software plug-ins to file folders.
And that doesn't count the new book he's writing. Or the collection of eight audio CDs and 10 DVDs of his public seminar coming this summer. Or his recent partnership with a company called Linkage that will train corporate trainers in GTD so they can teach his process throughout their companies.
Allen says he's not worried. "We are extremely good," he says. "I eat my own dog food, and I demonstrate daily what my book is about." And until he can find a CEO he trusts to take over his baby, Allen will remain in charge. After all, what else would he do? GTD has become his life -- not a product to sell as much as a gospel to spread.
One of Allen's grandest dreams is to create a nonprofit institute to bring GTD to small towns, schools, and government offices. Then there's the home-schooling market that he says could be huge. He's been in discussions with an upscale home-office retailer about a line of David Allen-branded products. And he's talked with Linden Labs CEO Philip Rosedale about adding a GTD island in Second Life where an Allen avatar could reach millions with virtual seminars.
Clearly, GTD has become more of a calling than a business. "I'm not going to give this stuff away," he says, "but money is not the prime driver."
Like a monk who found God by doing his menial chores with painstaking care, Allen has found meaning in the dullest tasks of our busy lives. Perhaps that's why religious groups are particularly drawn to GTD. No studies exist proving that it increases productivity, decreases stress, or boosts the bottom line, Allen admits, but he says such questions miss the point entirely. "Anybody who experiences this and still needs proof didn't get it," he says.
As with any spiritual leader, what Allen is really selling is hope -- salvation from the cares of this world by cleaning off the desk and paying bills on time. "I'm still an old stoned hippie head," he says. "I love getting high: Nothing like cleaning up your in-basket! Wow, that feels cool, having a clear space to sit down and hang out with nothing on my mind except what's here. How does it relate to spirituality? How about just being present? The whole idea is that it's all right here."
Life is complicated; people are tired and overworked. They want to be told what to do. Allen is happy to oblige, because he's convinced he's discovered a truth as fundamental as gravity. "Just look around! Look at the inboxes, look at the stress. There's such a universal need. And nobody's got the answers but us."
Paul Keegan is a New York-based writer.

click here
.