(Fortune Magazine) -- In 1986, when Robert Wright went from running GE's finance division to running NBC, David Letterman joked that his new boss was going to order up a miniseries on the toaster oven. Twenty-one years later, Wright has had the last laugh - expanding the stand-alone network into a diversified media giant, thanks in part to 2003's $14 billion acquisition of Universal's movie and cable properties.
Last month, a few days after Wright announced he was stepping down, GE chairman and CEO Jeff Immelt called speculation that GE was looking to sell NBC "stupid drivel." Wright, who retains the title of GE vice chairman, begs to differ, claiming he wouldn't be surprised if the company eventually spins the network off.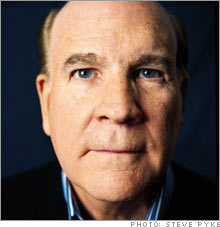 In an exclusive interview with Tim Arango, he raised another interesting scenario: Early next year Time Warner (Charts) can separate its cable business from its content businesses without incurring a large tax liability - an event, he says, that could spur efforts to combine NBC Universal and Time Warner, parent of Fortune's publisher. "It would be a great combination," he says. Following are other excerpts from their conversation.
Over the years GE (Charts) has considered spinning off NBC. Would you be surprised if in three to five years NBC Universal was not part of GE?
I wouldn't be surprised. I also think Immelt means exactly what he says. He wants it to be successful, and he wants it to stay part of GE. I understand that very well, because when this business is operating well, it's a very attractive part of GE. And where it can be difficult is, if something isn't perfect in the business, its imperfections become a noisy part of a company like GE. There may well come a time, and I'm not saying it's anytime [soon], where the fit isn't as good as he'd like. And he has to manage his portfolio.
Had you ever been close to selling the network?
We were. Two times. For one 12- to 14-hour period, we had sold half the network to Disney (Charts), with the expectation that they could buy the rest of it.
When was that?
In 1994. By the time [Disney's then-chairman and CEO] Michael Eisner went to bed and woke up the next morning, he had changed his mind. There was another period where we were basically sold to Marty Davis. That was the Paramount entity, Gulf & Western. [Davis, who was looking to either buy a network or sell the studio, ultimately sold Paramount to Viacom (Charts) in 1993.]
You lost out on the DreamWorks deal when Steven Spielberg, David Geffen and Jeffrey Katzenberg decided to move their company to Paramount in December 2005. What went wrong?
It was a disappointment to me. There was investor pushback at GE, because they just saw rich guys getting richer who were going to sell us poor guys in suits a very expensive property that probably wouldn't work. But having said that, we went ahead and tried to do it. We reached an agreement relatively quickly with the DreamWorks principals, with Geffen being the principal person in the negotiating. The problem was, there was still hesitation here at GE. We had to hold off on entering into an agreement. I think David Geffen thought this was some sort of scheme to wear them down. So I gave them the right to go and negotiate freely with other parties.
The announcement that Jeff Zucker would be taking over your job wasn't exactly a surprise, but the timing seemed sooner than planned. What happened?
I had made a commitment to stay here through my 65th birthday, which is next year. My expectation was never that I'd leave as CEO, but that I'd turn that over sometime beforehand. The question was when. The time we had arrived at was later this year. So we're really talking about the difference between six and eight months. What changed was that Jeff Immelt became convinced that it was the right time for Jeff Zucker to do it. And he also became convinced that it was the right time for him, Jeff Immelt, to take a major leadership position with NBC Universal.
What's the state of your relationship with your old boss, former GE chairman and CEO Jack Welch? You guys were very close.
He just went into a different world. And I think Jack just wanted to distance himself as much as he could from the things he was doing when he was chairman. He got involved in this very messy divorce with his wife. He moved to Boston, and he did a whole bunch of other things. He changed his life around 180 degrees. And that's fine. I see him occasionally - I just don't see him like I used to see him.
Have you spoken to him since you announced your retirement?
No, I haven't talked to him since then.
Tell me about how your grandson has affected your plans for the future.
Not long after he turned 2, Christian went through some really odd behavior. We had him diagnosed at Columbia Presbyterian [in New York]. I'm on the board up there, so we get up there and this little boy goes through these three days of testing, including being unconscious for one series of tests. They're administering [anesthetics] to him that you wouldn't expect to have in your entire life. Then, at the end of three days, they say, "Okay, well, we don't see any treatable medical condition, but he's autistic." The translation was "We can't help you at this stage."
So what was your response?
My wife, Suzanne, and I used our resources to start Autism Speaks two years ago. Since then we have merged with other autism groups: Cure Autism Now, the National Alliance for Autism Research and the Autism Coalition for Research and Education. I try to use all the tools that I have for business in this organization: cost control, marketing, raising money. We need the funds to do this. Managing it, we have very good finance people. We try to have the same disciplines that would exist in a business. Because this, by and large, is other people's money.
I basically narrowed my outside activities over the past two years to Autism Speaks. I certainly will do more. The next two years are very important for me on this, because we now have created a very big organization. The challenge is to pull it all together and become more dynamic - to provide family services, awareness, research and therapies.
Birth of a foundation
Behind every great CEO is a supportive partner. And for Bob Wright at NBC, that person was Suzanne Wright, who, with her collection of peacock brooches, was closely associated with the network. But she's even more hands-on in the fight against autism.
The Wrights have tapped into a network of corporate chieftains who have been supportive of their two-year-old foundation. Among them are Mel Karmazin, the CEO of Sirius Satellite Radio, who also has a grandson with autism; fashion mogul Ralph Lauren; and Phil Geier, former chairman of advertising giant Interpublic. Here are excerpts of Suzanne Wright's conversation with Tim Arango.
Your grandson was 2 years old when he was diagnosed with autism in 2004. What was that like?
I had known all along that something was going very wrong with Christian. We had moved our daughter, Katie, and her family to New Canaan, Conn. And once he was in his new house, he would go under tables and he would bite and scream, and I said, "There's something very wrong here." But five different doctors told me that he was acting this way because of the move. I said, "I've raised three children, and I've moved them too, and I've never seen behavior like this." The tests at Columbia Presbyterian Hospital took three days. And it was heartbreaking to sit there in the room with the team of doctors who evaluated Christian. The worst words were "He has autism." I didn't even know what it was. I thought of "Rain Man."
You were lucky enough to have the resources to start a foundation and get the best possible care for your grandson. What typically happens with families that are less well-off?
I could not believe how devastating it can be for some other families. They have to take second and third mortgages to cover the care and schooling. I said, "Oh, my God, we have to do something."
Soon friends of ours started giving me big checks and saying, "I don't want anyone to know." Because they are hoping that the child they know with autism will someday recover, and that by recovering they won't be known as autistic. Because there is a stigma, much as there once was a stigma with AIDS.
For more information, go to www.autismspeaks.org
_____________________