(Fortune Magazine) -- Larger-than-life developer, reality-television star, one-time presidential candidate - Donald Trump has done almost everything over his 60 years. A workingman's plutocrat, Trump survived near-bankruptcy in the early 1990s and is now bigger than ever (just ask him). He recently took the time to sit down and answer questions from Fortune's readers in the second in our occasional series.
Considering the current real estate environment, if you were starting your career right now, would you still go into real estate? --Alexander Paragios, Bedford, Mass.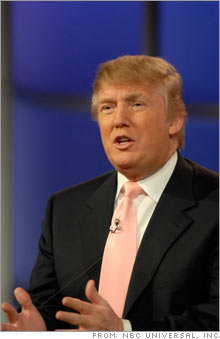 Questions for... Martha Stewart

Author, TV host, and the founder of Martha Stewart Omnimedia answers your questions in the Dec. 8 issue of Fortune.

Now's your chance to ask Stewart about launching your own company, how the market turmoil has impacted her empire, and whatís next for the titan of homemaking?
Previous Q&As
Yes, I would go into real estate. I love it. When I first started out in Manhattan, everyone was saying what a terrible market it was, and if I'd listened to them, I would not be where I am today. There are always opportunities.
What profession would you have gone into if you had not entered real estate? --Wade Henley, Mechanicsville, Va.
I had thought of attending USC to study film before I went to Wharton and decided on real estate as a focus. The entertainment industry has always been of interest to me, and that interest has paid off with the success of "The Apprentice" and the "Miss Universe," "Miss USA" and "Miss Teen USA" Pageants. I also have a production company in Los Angeles, called Trump Productions.
When someone pitches you an idea for a new product or business venture, what are the key points that make the best impression? --Dave Lawicki, Traverse City, Mich.
They have to be enthusiastic, succinct and fast. I have to see clearly how it will work for everyone. It's like a negotiation technique - it has to be a win-win situation for everyone, and it has to be thoroughly thought-out. The faster that can be made clear, the better. Make sure there are no blind spots in your ideas or your presentation.
What do you look for when you hire a leader in your company? --Tommy Seay, Columbus
Someone who can be a team player while being an effective leader. You will notice, if you watch "The Apprentice," that I look for those two qualities. Some people are one or the other, but not both. An organization needs someone who can be both.
I am 24 and work with my father. Since you've been in this situation, what advice would you give to someone who wants to carry on and grow the family business? --Joseph Kim, Vancouver
It's a terrific opportunity and a fortunate situation - be sure to pay attention and learn everything you can. I learned a great deal from my father. He was the best possible mentor anyone could have. I'd say to watch, listen and pay attention to everything.
What do you think of international real estate markets like India, China and Dubai? Do you have any plan for investing in those countries? --Senthil Kumar, Jacksonville
I am building a tower in Dubai at the moment; it's a fantastic market. We also have a tower going up in Istanbul, Turkey and in Seoul, South Korea. There are hot markets everywhere.
When investing in real estate, what are the key factors you focus on in making a decision? --Joseph Heck, Rochester, Mich.
I carefully consider the complete environment - 40 Wall Street is a good example. When I bought the building, everyone advised me to turn it into a residential property. But I didn't feel that was such a great idea, and I stuck to my instincts. Today it is thriving as a commercial building with world-class tenants, and I made the right decision. It's been a sensational success and is worth many times over the $1 million I paid for it.
Who is your favorite musician? --Noam Schafer, Cleveland
That's a tough one. I have to name a few: Tony Bennett, Frank Sinatra, Elton John and Andrea Bocelli. Just recently I saw Justin Timberlake perform in New York City, and he was great.
On deck: Best Buy's CEO, Brad Anderson: Submit your questions
_____________
Q&A with management guru Jim Collins